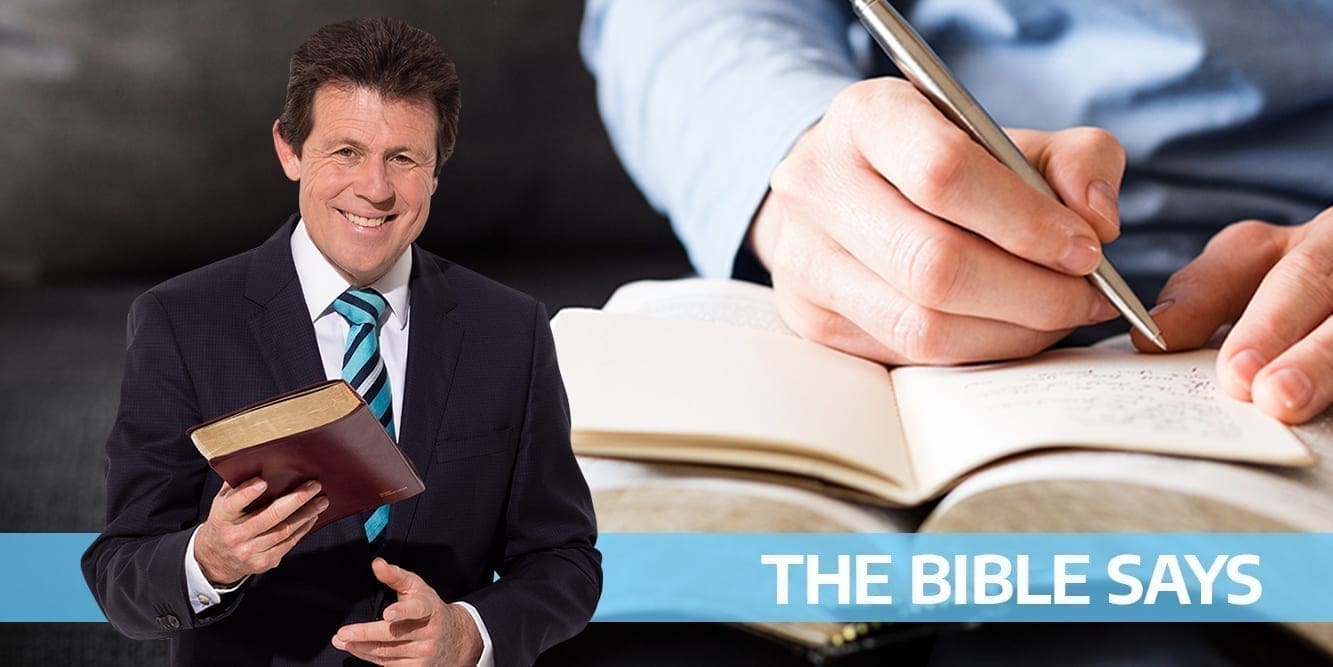 This is the Israel Museum, one of the most fascinating places to visit in Jerusalem. It has the most extensive display of artefacts from Bible times. When you visit the Museum, the first thing you see is the interesting roof of the Shrine of the Book. It is shaped like the lid of an ancient jar that would have been used to store scrolls. Under its roof is the exhibition area that traces the story of the Dead Sea Scrolls.
This is a really confronting topic for many of us. For years we've been told that fats and oils are bad for us. But now there's new research that says that some fat is necessary for our brains. So join us as we talk to Dr Delia McCabe and find out the real facts about fats and oils.
Mothers are the cornerstone of our families and our society. They are the glue that holds the family together. Their love is immense. A mother's love is strong, unconditional and eternal, and we cannot imagine life without the love and support of a mother. Happy Mother's Day!
An addiction is an inability to stop an activity or behaviour, even if it is causing physical or psychological harm. A simple addiction, like needing a coffee first thing in the morning, is generally regarded as normal – even though it's a sign that the body lacks energy. But if you can't live without it, it's still an addiction. More damaging and serious addictions, like alcohol, drugs, gambling, or pornography, cause terrible damage to the user, their family, and their community.
Every year on the 25th of April, Australia and New Zealand stop to remember and celebrate a very special day called Anzac Day. It's a national day of remembrance that commemorates all Australians and New Zealanders who served and died in wars, conflicts, and peacekeeping operations.
The Dead Sea is a unique and amazing place. It's surrounded by desert which makes water here extremely valuable. But you can't drink this water. It's the saltiest water on earth, ten times more salty than the oceans and far too bitter to drink.
Our children are our most precious assets. We all want to do everything we can to give them the best opportunities in life and help them succeed. Well, is there a very simple way to provide your child with one of the most important advantages in life? Join Gary Kent and Dr Delia McCabe, a nutritional neuroscientist, on the best foods for our children.
Throughout history, there has been one thing that is common to everyone who has ever lived: death. Some deaths have been more spectacular than others, some more notable and mysterious. Some changed the course of history and made a difference in the world, while most passed relatively unnoticed.
This is the Church of the Holy Sepulchre. It is the most sacred Christian site in the world. Today it is located within the walls of the old city of Jerusalem in what is known as the Christian quarter. But during the time of Jesus, this site was outside the town's walls and very likely a quarry, so it is a possible site for the crucifixion. Emperor Constantine embraced Christianity in 312 AD, and soon after, his mother, Helena, made a pilgrimage to Jerusalem, where tradition claims she found many Christian sites, including the place of the crucifixion and burial of Jesus. The Church of the Holy Sepulchre was built on the site she located. The name sepulchre means a chamber that is used as a grave. In the Bible book of John 19:41-42, it says that the tomb was close to the place of the Crucifixion, and so the church was planned to enclose the site of both the cross and the tomb.
There's a lot of discussion today about the food we eat. There's foods that are good for us and benefit our bodies and brains. But there are also foods that are harmful and that we would be wise to avoid.
Caesarea Maritima! It's a truly amazing place. Herod the Great planned to build a perfect city as the political capital of the region. From the palace, the hippodrome or the chariot racetrack, the ancient public lavatory, bathhouse, shoreline promenade, Roman theatre, and frescoes, to the magnificent harbour – it was a grand town.
The beautiful and peaceful Garden Tomb is situated just outside the walls of the old city of Jerusalem. It is considered by some Christians to be a possible location for the crucifixion and burial of Jesus in a stone tomb. The Bible records tell that Jesus was crucified at Golgotha outside the city of Jerusalem near a gate of the city and along a major thoroughfare. Right next to the Garden Tomb is a large rock that many feel could have been Golgotha. "Taking Jesus' body, the two of them wrapped it, with the spices, in strips of linen. This was in accordance with Jewish burial customs. 41 At the place where Jesus was crucified, there was a garden, and in the garden a new tomb, in which no one had ever been laid. 42 Because it was the Jewish day of Preparation and since the tomb was nearby, they laid Jesus there."
Back in 1895, a 30-year-old Banjo Paterson was staying at Dagworth Sheep Station near Winton, when he heard the story of the recent death of a striking sheep shearer at the nearby Combo Waterhole, wrote the tale and put the lyrics to the tune he had heard the station owner's daughter playing on the autoharp. The new song spread rapidly, and the first public recital was at Winton's North Gregory Hotel on 6 April. The enduring popularity of this song that uses many iconic Australian words to describe the rugged beauty and character of the outback, also is a graphic reminder of the consequences of fear. Fear is a common and powerful emotion that can interfere, restrict and cripple our lives. Are you afraid or worried about something? What's your greatest fear? Is it embarrassment? Failure? Rejection? Disappointing others? Not fitting in? How can we better cope with fear? What do we do when fear consumes us? God doesn't want you to live in fear, even when life is difficult and the future uncertain.
It's a day some look forward to with excited anticipation and secret hope and others with dread and despair. So, what could this day be? Well, it's Valentine's Day, 14 February, the red-letter day of love when the shops are full of red hearts, red roses, chocolates, cards, and many gift ideas to share with that special person in your life. Did you know that Americans spend nearly $30 billion on Valentine's Day each year? And that the first Hallmark Valentine's Day cards were sold in 1913 and today about 145 million Valentine cards are given each year. A surprising statistic about Valentine's Day is that teachers receive the most Valentine's cards annually of anyone in the world. Now, since Valentine's Day is the second biggest holiday spend after Christmas, let's take a deeper look at the fascinating facts of how this day of celebrating love began.
I am standing here on the Temple Mount Steps beside the walls of the old city of Jerusalem. The Bible comes alive when you step foot in Israel and that's certainly true when you visit the Temple Steps here in Jerusalem. It's amazing to think that Jesus would have walked up these very steps on his way to the Temple. Herod the Great originally built these stone steps when he expanded the size of the Temple Mount and rebuilt the Second Temple. Sometimes called the Southern Steps, these steps were originally a set of 30 steps that were 60m or 200 feet wide.
The Roman army was an efficient killing machine, and the backbone of this army were the centurions. They were veteran soldiers who commanded 100 men. They we…
The 2019–20 Australian bushfire season is now known as the Black Summer. It was a period of unusually intense bushfires in many parts of Australia but especi…
You know about time is that we can look back, but we can't see the future. Who could have predicted the pandemic that has changed our world forever? Who could have predicted the rise of violence and lawlessness in our societies? Many people are asking what is going to happen next? How can we know what the next calamity is? Is there a way to find out? Some have tried to tell the future but without success. Some try science, others try fortune-tellers with their crystal balls, others read the horoscopes, and others follow conspiracy theories.I want to suggest that the only reliable source for finding out about the future is the Bible. Only God knows the future and He shares the details in His word the Bible.
For more than a quarter of a century, Arthur Stace's shadowy, elusive figure roamed the streets of Sydney in the darkness before dawn, unseen and unknown. It was one of the city's biggest mysteries. Who was writing in chalk, this one word, "Eternity" on the footpaths every morning? It was written about half a million times on the sidewalks of the city. Watch this video to know how this Graffiti changed the lives of many people around Australia.
Dietrich Bonhoeffer was a double agent who plotted to assassinate Adolf Hitler in the Wolf's Lair fortress. When the plot failed, Hitler made sure Bonhoeffer was executed in the final days before the German surrender. Today Bonhoeffer is hailed as a twentieth-century martyr. He voluntarily faced imprisonment and execution with determination and courage. But why did he do this? What values shaped his life, and where did these come from?
The start of a New Year is a time of new beginnings and fresh starts – as well as a cause for celebration. I love the way that Jesus combined all of this in His story of the prodigal son. It's about a young man who rebelled and left his father, taking his inheritance with him and wasting it on careless living. Luke 15:14 says, "He spent everything he had . . . and he was left without a thing". His recklessness had left him lonely and miserable. So, he decided to swallow his pride and return home and ask to be a servant in his father's house. The prodigal's father is like your heavenly Father. No matter what you've done, when you come home to God, he wraps you in his love. He gives you his best and says, "All is forgiven! Go get the robe. Go get the shoes. Let's have a feast! My child has returned to me." You come home to celebration, not condemnation.
People all over the world have heard the story of Jesus' birth. But have you ever wondered why it matters, and what difference it makes? Well, it makes a huge difference, and not just to Christians, but to everyone. The birth of Jesus was the most important event in human history – and here's why.
As the year draws to an end, billions of people around the world look forward to Christmas Day, with its evergreen trees, colourful lights, carol-singing, gi…
The Roman empire was one of the greatest and most influential civilisations in history and ruled the world for around 500 years. It was founded when Augustus Caesar proclaimed himself as the first emperor of Rome…
The Universal War, the war between good and evil, between God and Satan, has just about come full circle. It's just about over. The same Jesus who was die…
The year 2022 marks the 100th anniversary of the death of one of the greatest explorers from the Heroic Age of Antarctic Exploration during the early 20th century. His name is forever linked with Antarctica, and his amazing feats of survival and rescue in the freezing cold conditions of Antarctica are legendary. Watch this story about Ernest Henry Shackleton.
The Roman Emperor Constantine was one of the great, charismatic figures of the ancient world. He radically changed the Christian Church and its beliefs so th…
Despite life's challenges and uncertainties, it is reassuring to know that God still has plans for you. If you feel that you are being called by God, and you…
Have you ever wondered who is the most famous, significant, and influential person in History? Well, if you search online you will find there are many websit…
What is Halloween? It's growing in popularity every year in Australia and around the world, it's everywhere. For weeks, the shops are filled with ghoulish displays, and people become excited about dressing up as a skeleton or a spooky dead person. But why are they doing this and where does the idea come from?
Do you reach for your smartphone as soon as you wake? Do you find yourself frequently checking your emails, the news apps or how many likes on your social me…
Space is awesome! Immeasurable distances! Incomparable speeds! Incomprehensible spheres! Inconceivable power. The magnitude of space is truly awe-inspiring. …
Today, psychologists recognise the vital importance of a positive sense of self-worth. But you might be wondering, what exactly does that mean? Are there any…
Early in 1947, a Bedouin shepherd boy of the Ta'amireh tribe was tending his flock of sheep and goats in the desert area of Qumran. He noticed a few of the g…
The Devil, Satan himself, is real. Have you watched or read the news lately? The images can often be startling: Young people attacked, fatal car accidents, …
The Pro Hart Gallery is one of the most popular tourist attractions in the outback town of Broken Hill. It's chock full of his paintings and artwork. This painting of a dragonfly is one of his most well-known and famous pieces. It's interesting how Pro came to paint the image of a dragonfly. He was watching ants going about their work. He saw them busily working on a dead dragonfly and carrying it bit by bit to their nest. So it was the ants that first captured his attention and interest, which he connected to the wisdom found in the Bible book of Proverbs "Go to the ant, you sluggard! Consider her ways and be wise," – Proverbs 6:6 (NKJV) We can learn a lot from nature and ants.
"Blessed are the poor in spirit: for theirs is the kingdom of heaven. Blessed are they that mourn: for they shall be comforted. Blessed are the meek: for the…
Happy Father's Day to all our Dads! A good father is one of the most unsung, unpraised, unnoticed and yet one of the most valuable assets in our society. Fat…
Pro Hart is Australia's most famous outback artist. During his lifetime, he produced over 70,000 pieces of art. But he wasn't just an artist; he was a man of varied and unique tastes and interests. Learn more about Pro Hart by watching this video.
Martin Luther is one of the most influential and controversial figures in the history of the world. He was a German monk who forever changed Christianity when he nailed his '95 Theses' or 95 propositions to a church door in 1517, which sparked the Protestant Reformation.
Australia has more than 300 lighthouses scattered along its coastline of over 37,000 km to warn ships of danger, establish their position and guide them to t…
In March 1942, General Douglas MacArthur was forced to flee the Philippines in the face of an aggressive Japanese invasion. MacArthur had been appointed Field Marshal of the Philippines by the United States government and had been tasked with protecting the Philippines from Japanese invasion.
Prayer is powerful. It provides us with a link to God. Prayer can change our hearts, our thoughts and our lives. Watch this clip to find out more about the power of prayer and how to pray effectively.
Do you sometimes wonder if God hears your prayers? Are there times when you pray and pray but it feels like those prayers don't go any higher than the ceilin…
The disciples of Jesus were united in a common goal. They prayed together, they had harmonious relationships with one another, and they had a clear, common g…
One of the saddest things that can ever happen to a parent is to have one of their children die. It's heart-wrenching, soul destroying and unimaginable. It's a grief that is like no other and that lasts a lifetime. How do parents cope? How do they bear the depth of the pain? Watch the clip below and find out how you can find comfort even in the most painful situations in your life.
Everyone wants to be happy. It's something we all have in common – the desire for happiness. God challenges us to ask for the old paths, the tried and true avenues that guarantee our search of happiness. This isn't a pipe dream, but a tangible experience within reach. So, what are some biblical methods to find happiness? Discover these methods by watching this video.
Since the Coronavirus pandemic began to race across the globe in early March 2020, we soon saw a parallel pandemic begin. It was called a pandemic of fear. But has living in fear really become the new norm? Now with fear there are also a handful of other feelings that have also become the new norm: isolation, loneliness, and uncertainty. So how do we cope when we are faced with these feelings?
Prayer requires an open heart, a surrendered will, a persevering spirit, and willing hands. Let us not wait till we are out at sea, tossed and blown in a storm, before we pray. May we make prayer our first resort and not our last.
It's easy to have an emotional response to the circumstances around us. That is natural. The difficulty lies in bringing balance to our emotions so they don't consume us.
The Edomites were a prominent and vital nation during Bible times. Unfortunately, though they were neighbours and relatives of the Israelites, there was often animosity between them. To learn more about them, watch this wonderful video.
The Widow of Zarephath is one of the most poignant and moving stories in the Bible. The story of an impoverished unnamed widow and her son, who lived in the foreign land of Zidon outside the borders of Israel. Watch this inspiring and amazing story here.
During Bible times, the great ancient city of Babylon, mentioned 280 times in the Bible, was the capital of the area called Mesopotamia, also known as the Land of Shinar, the fertile land between the two rivers, the Tigris and the Euphrates. Some of the people in the Bible lived in this area and there are many references in the Bible about the events that happened in ancient Iraq.
Egypt is a land of wonder and the home to one of the greatest ancient civilisations in history. But for many people, Egypt is most famous for the pyramids and the Sphinx that rise from the sandy plains at Giza near Cairo, the capital city. But is Egypt in the Bible? Watch this video.
The first thing Nehemiah did was tour the city to inspect the extent of the damage. The walls were broken down and the work looked challenging but not impossible. Then he assessed the situation, identified the problems, and came up with a workable plan. He then turned his attention to gathering the support of the people and turning his plans into action.
Who were the Moabites? Before discovering the Moabite Stone in 1868, the only record of the Moabites was found in the Bible. And like with many ancient peoples that have disappeared from history, there was some doubt that they ever existed. Let's learn more about the Moabites by watching this video.
King Belshazzar of Babylon organised a big party – over one thousand people attended. Amid all the revelry, an event occurred that brought all festivities to…
Our modern problem is self-obsession and pride. And they are both tough and difficult things to break through. In this video, we look at how our loving and p…
The issues in the book of Daniel are worship and obedience. The issues in the last days will be worship and obedience. It is important that each of us remain…
Does God really exist? Well, the ancient King, Nebuchadnezzar had an amazing dream that gives startling evidence of the existence of God. Find out all about …
Today we live in a time of prosperity, when it is relatively easy to serve God. If we cannot be obedient in this time, we will never be obedient when real tr…
Jealous and hateful men sought to destroy a rival by throwing him into a den of lions. Watch this clip, the first in a series of six, and discover stories of…
Len Waters, was the first Aboriginal Australian military aviator and the only one to serve as a fighter pilot in the RAAF during World War II. Born in 1924 i…
Have you ever wondered about heaven? Where it is, and what it is like? Heaven is open to everyone, all you have to do is to accept Jesus and follow Him. Watch this video to learn more about this place God has prepared for you.
Now we all recognise and admire passionate people who follow their dreams with purpose and conviction. So how do we find our passion? How do we find what re…
Australia is home to some of the most dangerous animals in the world. But the deadliest of all will undoubtedly surprise you. It is well known that Australi…
On New Year's Day, 1915, 1200 men, women and children, boarded a train consisting of a locomotive and 40 open ore trucks travelling to the annual New Years D…
It's the new year we have all been waiting for! 2022! It's a time of celebration! Incredible Fireworks, longed-for family gatherings, in-person parties and f…
Martin Luther is one of the most influential and controversial figures in the history of the world. He was a German monk who forever changed Christianity whe…
A man asked a silversmith, how do you know when the silver is fully refined? The silversmith smiled at him and answered, "Oh, that's easy – when I see my im…
The Bible speaks of stewardship, managing the resources God has given us and acknowledging that all we have comes from him. Let's take a look at what the Bib…
The Bible says: "Behold, I stand at the door and knock. If anyone hears My voice and opens the door, I will come in to him and dine with him, and he with Me….
The Maheno wreck has rested undisturbed in Fraser Island for decades, a silent reminder of another era, of a journey ended too soon, and a disaster. Sometime…
The Bible teaches us that God created the world within the span of a literal seven day week. In fact the seven day week we all take for granted today has its…
While modern science and technology have given us so much it can't give us what we long for the most; answers about what happens beyond the grave. But the Bi…
"What shall we say about such wonderful things as these? If God is for us, who can ever be against us?" – Romans 8:31 Fear makes us defensive, distant, dem…
During the Battle of Hacksaw Ridge at the height of World War II, Desmond Doss, a medic with the American forces, saved the lives of almost 100 men. Painstak…
The choices you make today determine where you will be tomorrow. Wise people are always asking: What do I need to do today to get where I need to be tomorrow…
Let's take a look at what the Bible says about judgement and discover both the magnitude and extent of this important subject. GET YOUR FREE BOOKLET HERE (…
In this episode, we take a quick look at some basic biblical principles about health and lifestyle so that we can strengthen our immune system and discover the secrets to longevity and happiness.
At the moment more than 13 million Australians are in lockdown as the Covid Delta variant continues to spread. That's more than half of Australia's populatio…
The law of God is a transcript of His character. The Bible tells us that through Jesus we can have the power to reflect God's law in our hearts and obey it i…
It is an invitation to every human being on the planet to come to Jesus so that they can find the peace and hope and eternal life he offers. Indeed, it is a …
Let us allow ourselves to set apart an entire chunk of time dedicated to worshipping and praising God. Learn more about Jesus and the Sabbath by watching thi…
While the Bible describes the nearness of Jesus coming, it also gives us a picture of how Jesus will come back as well. As important as it is to know that Je…
Henry Archibald Hertzberg Lawson was born on 17 June 1867, in a tent on the goldfields of Grenfell in Central New South Wales, Australia. It was a hard life
Jesus gave us signs to tell us when his coming is near. Though the Bible tells us that no one knows the day or the hour of Jesus' return we can know if it is…
Have you ever heard these sayings? "Great minds discuss ideas; average minds discuss events; small minds discuss people" and "No one can make you feel infer…
Have you ever had a dream that left an impression but when you woke up the next morning you just couldn't remember it? You know that it was important, bizarr…
Will the fires of hell burn forever? Or, like any other fire here on earth, will it simply consume whatever lies in its path, leaving behind nothing but ash?…
Will the fires of hell burn forever? Or, like any other fire here on earth, will it simply consume whatever lies in its path, leaving behind nothing but ash?…
In the Bible baptism is a symbol of new life. In many ways, it signals a rite of passage. It's like an initiation rite. It's a moment in time when a believ…
The secret to growing in Jesus is to nurture and strengthen our relationship with Him. Like any significant relationship, our relationship with God requires time and communication…
Lucifer, who became Satan or the Devil through pride and jealousy, wanted to take the place of God. He wanted to take over and take control. He thought he …
How can I be saved? That's the most important question we can ever ask. And it's so vitally important because it deals with where we will spend eternity aft…
Dame Nellie Melba spent time teaching and investing in the lives of rising young vocalists. She focused on nurturing and cultivating their vocal talents by s…
Let's take a look at some quick Bible facts about the origin of suffering and why we continue to be plagued by it day after day. So, there they are – 10 impo…
For seven years in a row, Melbourne held the title of "Most Liveable City In The World", only being overtaken by Vienna in 2018. One of the things making Mel…
The Bible says: "Watch therefore, for you know neither the day nor the hour in which the Son of Man is coming" Watch this video and learn about the nine esse…
The Bible offers us answers to life's most pertinent questions: Why am I here? Where am I going? What happens after I die? What is it like in Heaven? Are we …