Our world has seemingly changed overnight, and as we all adjust to the new normal in our daily lives, our thoughts and prayers are with you and your families. I hope you're staying safe and healthy.
As a nation we have faced droughts, bushfires, floods, the Covid-19 pandemic – and now we are facing economic turmoil and looming high unemployment. These crises have revealed a great deal about who we are as a nation and as people. They also reveal a lot about who we are as Christians.
Sometimes these situations are an opportunity to change our focus and get closer to God. Even our Prime Minister has prayed for Australia and committed our nation to God. And this certainly is a time to commit our lives to God as well.
This crisis is affecting everyone very differently, some are shattered, some feel hopeless, some jobless and some bankrupt. For many of us it has provided a unique opportunity: a time for reflection. A time to think about what is really important in our lives and what our priorities are.
At The Incredible Journey, we believe that it is important for us to also do this and reflect as a ministry. Could this crisis be a wake-up call that God is giving all of us to ensure that we have our priorities right and that we are focused on sharing God's truth and preparing people for the soon coming of Jesus?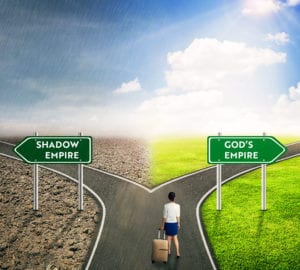 We believe it is important to inform people where this crisis is leading. And that's why we are preparing a new four-part television series called Shadow Empire. This series highlights where we are living in the stream of time as outlined in the Bible and what the major issues are in the end-time. It reveals that God is calling people back to true worship – the worship of God alone.
There are two competing empires in this world: God's Empire – based on Jesus and His Word – and the Shadow Empire, a counterfeit based on tradition.  Both are vying for our allegiance. And the battle is not over.  The clash of empires continues, and you and I have a role to play in this battle, too.
The world desperately needs to hear God's special truth for our time outlined in the messages of the Three Angels of Revelation 14 – the everlasting gospel that points people to Jesus. The Three Angels' messages are actually to be proclaimed by God's people – His last day church – who deliver them to the world.
We are committed to preaching this gospel of the kingdom to the whole world. And I would like to invite you to join us in accomplishing the work that God has given all of us to do. As we prayerfully combine our efforts with God's power, we will be able to accomplish the closing work for this time. Together we can make a real difference for eternity.
We thank God for His blessings and for those people reached for Jesus over the past year. We also prayerfully seek God's guidance for the year ahead. In a time when freedoms are under threat here and around the world, these new programs will provide a strong call to remain true, 'To keep the commandments of God and the faith of Jesus.'
I cannot think of a better investment than putting our means into exposing the shadow empire and calling people back to true worship – the worship of God alone.
If your personal circumstances allow, will you commit to helping us carry the end-time truth to the searching eyes of your friends and neighbours, will you commit to send in a gift today?
And if this is not possible for you at this time, I ask you to help us carry the work forward with your prayers.
Tax deductible donations can be made online at The Incredible Journey or by calling 0481 315 101. Thank you for helping unmask the shadow empire and for assisting us in preparing people for the soon coming of Jesus.
With God's richest blessings,
Pastor Gary Kent
Director & Host, The Incredible Journey
The Incredible Journey is a fully donor-funded non-for-profit ministry. Thank you for partnering with us financially and through prayers to prepare people for the second coming of Jesus.