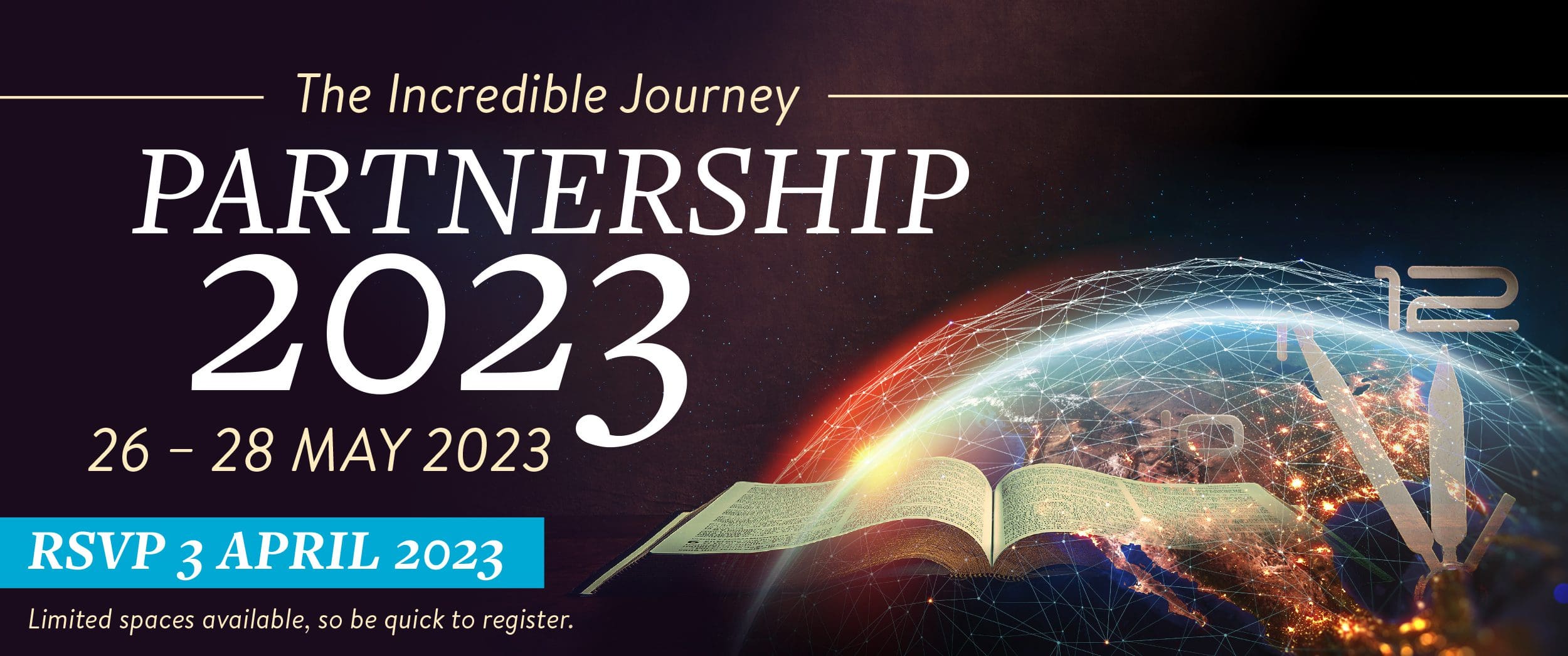 The Incredible Journey invites you to the 2023 Partnership Weekend
Pr Gary Kent would like to extend an exclusive invitation for you to join our very special Partnership weekend. A weekend of friendship, worship and celebrating the wonderful things the Lord is doing through The Incredible Journey Ministry in reaching people worldwide with the everlasting gospel. Partnership weekends are 'mountaintop' experiences where we will hear inspirational guest speakers on various topics and be encouraged not just in our faith but in sharing with others.
Partners are an integral and vital part of The Incredible Journey ministry, providing support for television programs, evangelism and special ministry projects. Each year, Partners support the ministry and mission of The Incredible Journey with a commitment of at least $125 per month or $1500 per year.
Partners are invited to attend the Partnership, an unforgettable celebration of fellowship, preaching, and music. The weekend includes five catered vegetarian meals, a comfortable hotel room, and exciting stories of what God is doing through the ministry. And there's also a special program just for kids!
Includes delicious vegetarian meals and one room (maximum 3 adults + 1 under 16 year old child, OR 2 adults & 2 children + a third child if under 2 years old and will sleep in a cot). $1500 Partnership Contribution is per individual, married couple, or single-family nucleus. For such families comprising of more than 4 individuals, the first room will be $1500, and $1000 for any additional room(s). A single-family nucleus usually comprises of a father, a mother, and their children (not yet adult), excluding non or more distant relatives.
If a second room for your family is required, then please call the TIJ office on 0481 315101 to discuss.
The event will occur at the Mercure GOLD COAST RESORT: 64 Palm Meadows Drive, Carrara, Queensland, 4211.
As guest speakers we have Pr Justin Lawman and Dr Tony Espinet.

More details will be provided as we get closer to the date.
Partnership 2023 Registration here
In January 2020, the leadership of TIJ assessed the costs arising from hosting the Partnership Weekend and determined that, to maintain a financially viable partnership, the Partnership Contribution (fee per room) was to be set at $2000. This decision was never "effective" because the ensuing pandemic prevented any Partnership events for the next three years. Considering the post-pandemic economic circumstances, the leadership of TIJ has affirmed for Partnership Weekend 2023 the contribution to be at $1500. It also has decided to retain the Partnership Contribution of $2000 for any future event.
The Australian Tax Office has recently made amendments to legislation regarding tax deductibility, which impacts Partnership Contribution. The Partnership Contribution covers accommodation and meals to the partner's benefit, so it no longer qualifies for tax deductibility. That means we can only offer tax deductibility for any contributions in excess of $1500 to those attending our Partnership weekend.
To explain this more clearly: If you don't attend Partnership Weekend, all your contributions qualify for tax deductibility, i.e. nothing changes for you. Only if you attend Partnership weekend your contributions up to $1500 no longer qualify for tax deductibility. Only what you contributed in excess of $1500 qualifies.
If you require further details, don't hesitate to contact the TIJ office.